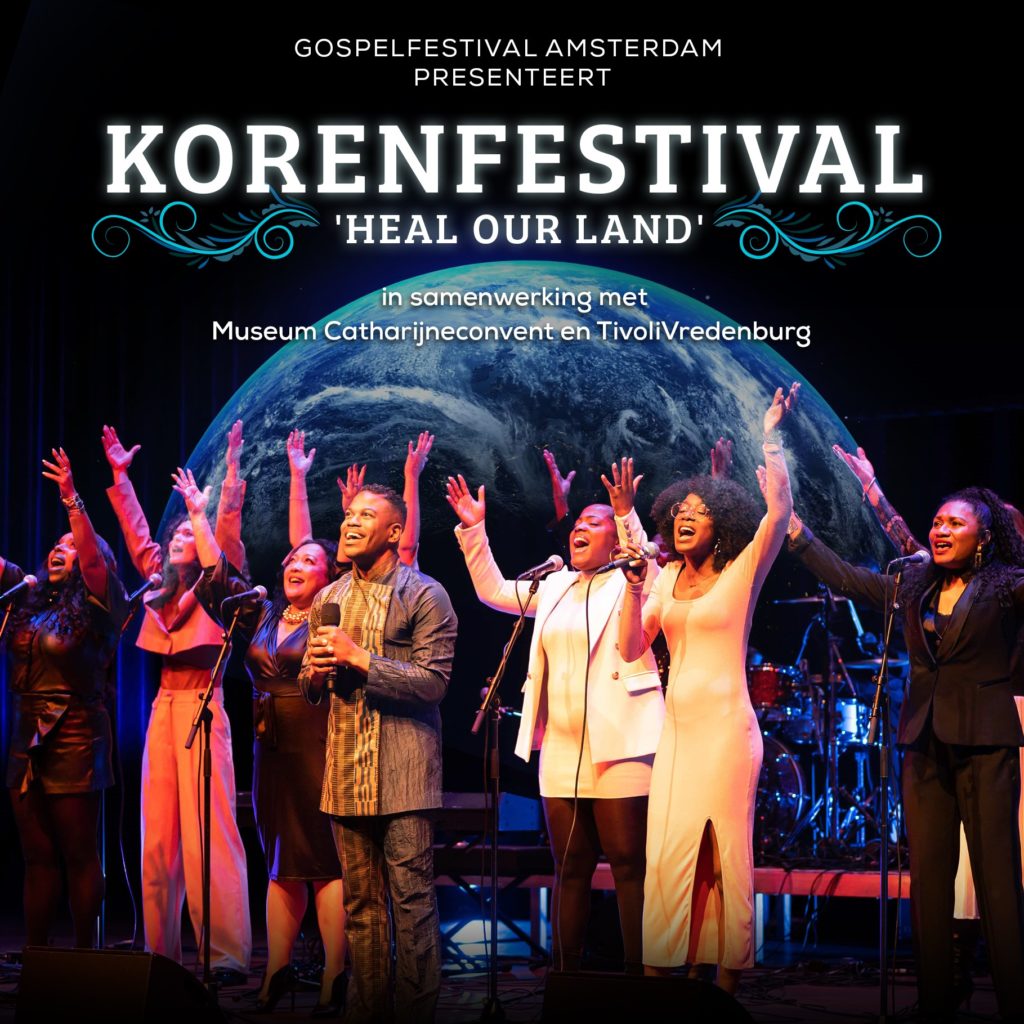 Gospelfestival Amsterdam presenteert het
korenfestival 'Heal Our Land'
i.s.m. Museum Catharijneconvent & TivoliVredenburg
Zondag 9 april TivoliVredenburg
Beleef een bijzonder Gospel Paasconcert met de familie.
Gospel leeft, herdenkt, biedt hoop en joy. Op eerste Paasdag 2023 strijkt het grote Korenfestival 'Heal Our Land' neer in TivoliVredenburg. Het concert is tevens de spetterende afsluiting van de tentoonstelling Gospel. Muzikale reis van kracht en hoop in Museum Catharijneconvent.

Er is veel gaande in de wereld. 'Heal our land' staat in het teken van vieren en herdenken. Het vieren van het leven en daarnaast het herdenken van de vele slachtoffers over de hele wereld (zoals Turkije, Syrië, Oekraïne, de getroffenen door COVID), door middel van prachtige gospelmuziek, die troost biedt en hoop, maar ook opzweept en bruist.Maar liefst negen fantastische verschillende Nederlandse gospelkoren uit het hele land zullen optreden en zetten Tivolivredenburg op zijn kop Soul en Motownkoor D-f!ne, The Outcry, Sound of Gospel, ABC Gospel Choir, Soul Sound Choir, TRIBE Hiphop Choir Collective, Wazzup Singers, the Gospel Experience, G-Roots (bekend van tv-programma TOP 2000) en special guest soul en gospelzanger Dwight Dissels (bekend van The Voice) maken hun opwachting. Bekijk HIER de Line-up.

De afgelopen maanden hebben deze gospelkoren gewerkt onder leiding van de legendarische koorleiders Gary Diggs en Jamie Williams uit de V.S. en van Lawrence L. Johnson van de London Community Gospel Choir en Nicky Brown uit de U.K. aan hun muzikale zeggingskracht en skills. Het vervolg hiervan is te horen en te zien tijdens het festival.
De koren zingen traditionele gospelliederen tot crossovers met soul, eigen composities, maar ook hedendaagse songs met een warme gospelsound. Het concert staat onder aanvoering van muzikaal leider Elisha Amonoo-Neizer en band en wordt gepresenteerd door gospelster Brandon Delagraentiss. 
Dit concert wordt een bruisend spektakel, een waardig eerbetoon aan de mensen die we hebben moeten loslaten, en een bijzondere manier om samen het leven te vieren.
Heal Our Land, Heal Our World.
Zo 9 april (Eerste Paasdag) van 15:30 – 17:30 u. in TivoliVredenburg, Utrecht 
---

We Shall Overcome
A tribute to Martin Luther King
In het kader van Martin Luther Kingday, Black History Month en de gospeltentoonstelling 'Gospel Muzikale reis van kracht en hoop', organiseerden Gospelfestival Amsterdam en Museum Catharijneconvent op 18 en 19 februari de gospelconcerten We Shall Overcome. A Tribute to Martin Luther King. Een muzikaal programma met prachtige gospelmuziek en spoken word, over de inspirerende woorden en daden van Dr. Martin Luther King.
Crème de la crème van Nederlandse én internationale gospel traden op met o.a. de Queen of soul en gospel Shirma Rouse, zangeres en presentatrice Giovanca Ostiana, Dwight Dissels (bekend van The Voice), Elisha Amonoo-Neizer (bekend van Matthijs Gaat Door) en band, de Wazzup Singers en internationale ster, gospelzanger, componist, arrangeur, dirigent en pianist Damien Sneed met band uit de V.S. sterzangeres Tiffany Stevenson, Alicia Peters-Jordan en Markita Knight. De uitverkochte concerten werden gepresenteerd door Brandon Delagraentiss.